Lost Places Closing
Details

Published on Wednesday, 27 April 2011 20:44
Last chance to see "Lost Places" at The Icon Factory


The exhibition will end on Sunday 1st of May. So please take the chance to see the "Lost Places" and enjoy.
Webo Sitespeedup
Details

Published on Wednesday, 27 April 2011 20:28
Implemented last days WEBO Site Speedup on my Webiste to increase the loading speed of my Site. Hope you enjoy it.
PSA Picture of the Month
Details

Published on Monday, 18 April 2011 23:46
Got yesterday the info that my image "Howth Lighthouse" made the 2nd place in the Picture of the Month Competition of the PSA.
This is the online gallery with the image: PSA Picture of the Month Online Gallery
The Photographic Society of America (PSA) is a worldwide organization for anyone interested in photography. The society includes casual shutterbugs, serious amateurs, and professional photographers.
Founded in 1934, PSA has members in over 70 countries. Individual, Club, and Council memberships offer a wide variety of services and activities: a monthly magazine; online photo galleries, image evaluation, study groups, and courses; competitions; an annual conference; recognition; and discounts on photography related products and services.
First International Image Acceptance Catalog Available
Details

Published on Thursday, 24 March 2011 01:00
The catalog of my first international acceptances is now available
There are two versions of the catalog:
An online version for viewing the images that can be downloaded but which cannot be printed. Clicking in the middle of a grey bar next to the image will show this image in your browser. There you can scroll through the images. Be sure to download this catalog and open with Acrobat (v7 or higher) for the links to work.
A printable version that can be downloaded and printed but which cannot display the images.
You can also access both versions via the exhibitions website.
First International Image Acceptance
Details

Published on Wednesday, 23 February 2011 22:06
I am absolutly delighted that I got my first acceptances in an international competition. 3 of my images were accepted in the PSA patronaged Coachella 2011 International Exhibition of Photography.
The catalog will be published soon on their website. These are the accepted images:
Upcoming Exhibition
Details

Published on Sunday, 13 February 2011 22:30
Just confirmed today my first Solo Exhibition. Thanks to The Icon Factory! The exhibition will show my Irish Art Wort and a highe part will be comprise images of my newset project: Lost Places
Mark the date in your diary: The opening will be 1st of April - 18:00 - More Infos to follow........ I am absoluty delighted!!!!!
Icon Factory X Mas Exhibition
Details

Published on Sunday, 12 December 2010 22:59
Taking part in the X Mas Exhibition at the Icon Factory.
Official Launch on Wednesday the 15th of December at the Icon Factory, Aston Place, Temple Bar, Dublin 2
Hope to see you!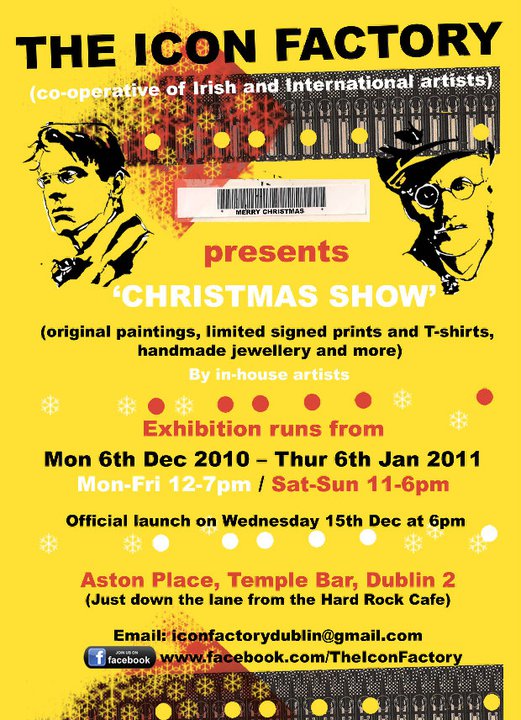 The Icon Factory is a non-profit, locally based artist's co-operative and gallery. Based in Temple Bar the Icon Factory is at the apex of Dublin's Cultural and Tourist centre.
We produce artworks and products that celebrate our Irish heritage, culture and icons. Artists, young or old, Irish or from afar are invited to exhibit their artwork here for free. The Icon Factory gallery is a non-commission exhibition space. We ask for only one Irish related artwork supplied by the artist to the Icon Factory for them to utilise as a product.